I've been mulling a theme around for a few months now. It may go back as far as last year while we were attending the membership classes. This week, largely due to our Sunday school studies on worship, the unique role of Pastor hit me with enough that I want to explore some of my thoughts.
So I'm thinking about the unique situation in which we find ourselves each Lord's Day with our brother and minister standing in the pulpit, proclaiming God's Word. There, he is not Mr. Tallman or Brian or brother; rather he is God's minister, acting in the role of a herald. For that period of the worship service, the minutes in which he calls us to worship, repentance, proclaims us forgiven, teaches the Word and baptizes and serves the Table, then blesses us and commissions us to go out into the world, he's not the personality we know and love between the services.
It must be a real challenge for our pastor to switch gears from The Voice back to our brother. I've tried to envision what it's like to come down from the pulpit at the end of the service and suddenly be interfacing with the people back on their level (no punning intended). We come up and thank him for his good preaching or comment on something he said in the sermon – or even tougher, come up with something entirely unrelated – selfish even that simply drops the entire last hour's reverence. Perhaps it's just as simple as this, that he takes a deep breath, shrugs and comes back into regular life. I mean, there's no good thing to append to a properly run service – the interaction is complete (I know this sounds rather cold, but I mean it in a sense that's reaching out to the hard thing our hearts have to sort of cross through). So when all's done, there's a truth here that all's done.
Is it hard? Is it painful to step down and suddenly have this mixed up relationship that is a half-life of reverence for the minister and then a renewed Second Kingdom relationship with a brother we can turn to for comradeship, guidance and regular Christian interaction? There are times when I think I grasp a little of it – specially after the longer and more involved services we've attended. I'm thinking of those that include the additional components of new membership, baptism or the Supper.
When we get our things together and start the shuffle out of the sanctuary, occasionally I'll end up on a path that passes by where the pastor has been "captured" by some of us up at the front. I've been one of the praise or off-topic folk plenty of times – though I admit at those times I haven't thought much of what I was doing. But this week in particular, I was thinking, how do I talk to this guy? Do I compliment his preaching or a comment he made? Do I thank him in a general sort of way and just move on? Or maybe ask him about something that's been bugging me for a while that I'm pretty sure could be wedged into context with the sermon (if I try hard)?
Now, I don't want to create the sense that I'm griping or even raising the bar on reverence either in general or specifically toward the Office of the Minister. I do think that my perception of our pastor while he's in the pulpit is growing more toward a sense that he's not BST for that hour on Sunday morning. Though he is not suddenly transformed into some other thing, like an angel, maybe or into an apostle type, he's not "just a man" at the same time, though he is just a man. I just wonder at the transition – and the dynamic that follows until we've really left for home. It's remarkable.
Perhaps this can be read in Acts where the apostles are going about the business of picking the replacement for Judas and then contrasted with Peter's sermon. Mundane (sort of) and then high and holy, magnifying God through the preaching of the Scriptures, probably illuminates the differences pretty well. But where's the switch? Maybe later in Acts where Paul and Barnabas are preaching and reasoning and then suddenly they must shake off their "mantles of royalty" very abruptly to beat down the mob of would-be worshippers who are ready to sacrifice to these two who appear to be gods.
These, then, are the things you should teach. Encourage and rebuke with all authority. Do not let anyone despise you. – Titus 2:15
Martin Luther served well to elucidate the high and serious position of the man in the pulpit in his Galatians commentary. Chapter 1 opened up right into the position of the minister.
"Every minister should make much of his calling and impress upon others the fact that he has been delegated by God to preach the Gospel. As the ambassador of a government is honored for his office and not for his private person, so the minister of Christ should exalt his office in order to gain authority among men. This is not vain glory, but needful glorying."
"We exalt our calling, not to gain glory among men, or money, or satisfaction, or favor, but because people need to be assured that the words we speak are the words of God. This is no sinful pride. It is holy pride."
There's meat to all this. It's not just a scholarly look into the philosophy or details of the Pastor's phases of life. This is relevant to our view of worship in general. It presents a line, or boundary to our gathering that separates the church on Sunday morning from the church on Monday morning. There's more than a functional gathering, more than something clinical to our practice.
I've occasionally visited a site that leads me to think about these things, and a couple of entries stand out: Pastoral Narcotic and Sabbath Preparation.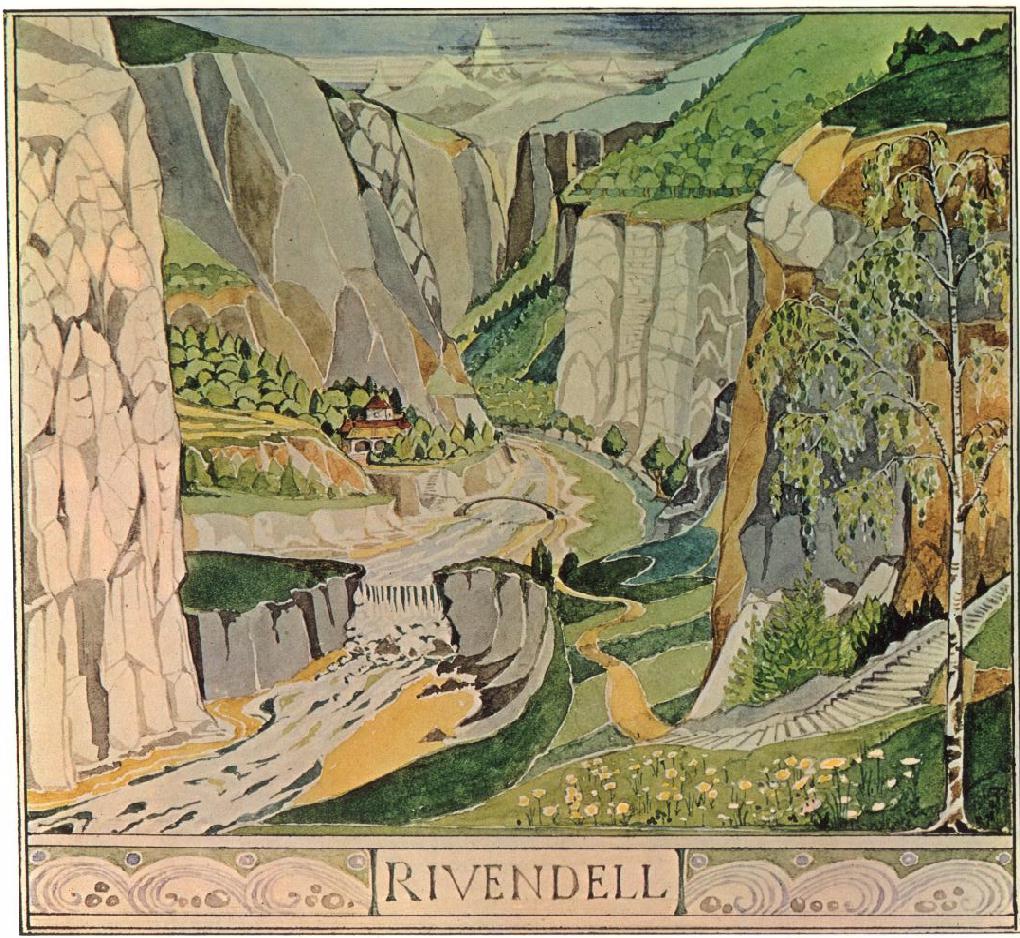 When Tolkien's hobbits come home from Rivendell, they leave a sanctuary that is sort of transcendent-immanent, otherworldly with a far deeper connection to life and death, meaning and lore. And they cross the vale, the Bruinen Ford, heading west toward home, they start to see the familiar, commonplace world where carts kick up dust, taverns ply their meals and drink and people go about their days. And for Bilbo in the Hobbit and the Four Friends in the Return of the King, homecoming is somehow dimmer (at least that's how I read it).
So our worship might be in turn: brighter and breathless, waiting for the sun to rise and elated when the Word is released to our ears and eyes and mouths. Though it means things may dim and lose their luster, once we've received our benediction,  perhaps it is good this way so that we are newly made and met each Sunday, out of the clay if only for a short while. It should increase our longing for the final Worship, which will not fade but will endure for all time.
I find that this growing sense of the immensity and value of the Worship time we have is something I want dearly for others. I want to see the Lord draw them from the water into a newness that they can savor. I think that this otherworldliness of our sanctuary on Sunday is more important than many of us are able (or willing) to consider easily. I don't want to totally go mystical or sacramental on this – it's not magical or miraculous in some occult or secret fashion. It's secret to the degree that those who are not in Christ have no sense of or access to it. At best it must be a peripheral suspicion or inkling that something else is going on behind the obvious.
As with Rivendell, there is a mystical-ness to just being there, that does not follow once the Ford is crossed. The lore remains, in the minds of the departing as it remains in the Last Homely House. But for us, it remains in the gathered People of God, accessible when we are united in our worship on the Lord's Day – we return to it each week. It is not passing, but enduring until a fulfillment which comes wonderfully and suddenly. I speak of an immediate time because it's never very far off, the not yet of our Lord's kingdom. Never far and we must live that way. Which is why the Lord's day, the sacraments and the Word are not less frequently found than next Sunday.