Some introduction and explanation of where all this comes from first:
I love Romans 7. I return to it over and over. I love Paul's gavel-bang of a last verse "Thanks be to God through Jesus Christ our Lord!"
I lost it today. Bad bad bad severe red-faced flip-out mad dad session. I gotta fix the wall.
But, strangely, I could see through my anger where normally I would sort of go numb and blind and desire above all to rapidly depart the scene. Instead, my heart was some kind of heavy, haunted weight in a way that I don't think I've experienced before. I wanted to weep for the sinful situation at which I was so angry. I was suddenly not venting my anger. Rather I was seething and angry with an immense desire to clearly communicate the Lord's standard and the raw, but beautiful solution to the sin.
So I thought, in the middle of all this, oddly, of the sermon on Sunday, which was on John 3:13-22.  Of course, in these circumstances, my thoughts switched rails to Romans 7, which pointed me to Galatians, where all sanity was lost and I became a bizarre sort of raging, Scripture spouting bull. Weird. But how could I stop? I hit a groove of passion for God's commands and the meaning behind them and the need to trust HIM to save us that wouldn't shut off. I ain't braggin' here, unless it's braggin in the Cross and our Lord.
I wasn't seeing red anymore. I was seeing the Cross. About as vividly as if it had actually been a vision – it was that powerful.
Okay. Enough introduction. I waste your valuable time.
The letter to the Galatians has put it succinctly.
"But I say, walk by the Spirit, and you will not gratify the desires of the flesh. For the desires of the flesh are against the Spirit, and the desires of the Spirit are against the flesh, for these are opposed to each other, to keep you from doing the things you want to do."
This insane tension ebbs and flows like some completely unpredictable river. It's not like the Nile, which floods in season. It's more like a desert stream, far from the rainstorms of spring which may have nothing but sand in its bed one moment, and a rushing torrent of rage and destruction the next.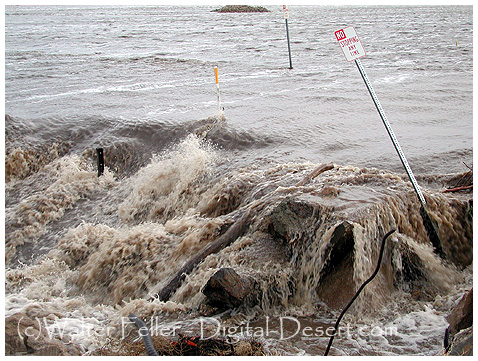 Our sinful desires are not gone once we've put our trust in the Lord for our salvation. The miserable qualities that we have lived with up to the point of our regeneration are not eradicated by our regeneration. They still lurk, waiting for just the right moment.
I'll confess that the same sinful ways I had before are still the same ones now. Some of them have become far more insidious and difficult to deal with. They get me in such subtle ways that I don't always catch them. Sometimes they flare up and there's no way to catch up to the sin until it's too late.
Almost the same though, and this should be encouraging, the Spirit that we have been given also ebbs and flows – just as trustworthy in his steady presence as the sin is in its persistent presence. The desires we have for God and loving and obeying Him are achingly weak sometimes, and overwhelmingly, blessedly intense.
It's this war.
Sometimes we are angered as Christ was at the irreverent abuse of His temple in Jerusalem. He was incensed at the short shrift His Gentiles, who were very soon going to be re-instated into the covenant family, were getting at the hands of their "spiritual superiors". Unlike Christ in that case, we can become so enlivened at sin that it's hard not to sin in the process.
Sometimes we are so passively disengaged that our sin of being lazy or uncaring is barely noticeable. And this is not always distinguishable from a holy desire to preserve the peace and unity of the church. Christ exemplified the latter, passing over and refusing to engage many of the battles that offered to meet him.
We mistake one sin for another grace. We are under extreme pressure. This is the suffering that we must bear. And it is the suffering that we must willingly bear, being considerate of it and deliberate about it. It is why we study our Bibles and listen to the preached Word to find both our sinful selves and our Savior. We seek them both, to know them both. One to deal with and the other to be able to deal with the first. Trusting Him, we can bear to discover our terrors and vileness so that we may stare them down, rip them to shreds, wait patiently on them, love Him in spite of them.
Sinner: Know thy enemy in this way. Know thy Savior in this way. Trust Him, mistrust sin. Therein is our perseverance.